Bathroom pod lifts made quicker with modular frame
A new modular system from Britlift is helping improve productivity for bathroom pod lifts in London.
Rainbird Crane Services works predominantly in central London, specialising in lifts onto high rise buildings of prefab and modular units. It also has a machinery moving division, lifting and shifting industrial and mechanical equipment, as well as carrying out installation and removal.
Rainbird needed a modular system that could help it safely and quickly lift a variety of different bathroom pods and turned to Britlift for a solution.
"The pod manufacturer provided a frame, but it relies on a slotted system where you have to move the brackets and rigging on top of the framing each time," said Jonathan Rainbird, director of Rainbird Crane Services. "We wanted a modular product that could speed up the entire process for us and make it less onerous."
Adjustable Multi-Point Spreader Frame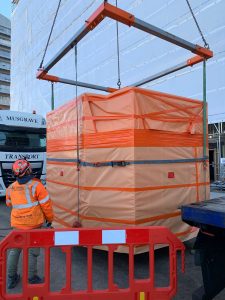 Britlift designed and supplied a bespoke modular system specifically for lifting bathroom pods. It has removeable corner pieces with fixed length struts, meaning that Rainbird can lift different pods without having to make any adjustments such as bolting or unbolting sections.
Britlift's system incorporates lugs along the strut length, plus multiple lifting lugs on each corner piece. The lugs are colour coded to correspond to a specific make and model of bathroom pod, making it quick and easy for Rainbird's crews to use.
"We needed the system to cover eight different types of pods and Britlift were able to do that for us," added Jonathan. "For example, for pod A we might use the blue coloured lugs and for pod B we would use the red points. It has sped up the whole process massively for us."
Rainbird use cranes to lift the pods onto canti decks and scaffold landing platforms. The pods are then tracked across the floor plates using movement equipment. Finally, they're positioned, aligned and levelled.
"I have used Britlift before at a different company for modular beams and frames so I knew they were reliable, easy to deal with, and delivered a quality product," said Jonathan. "They have provided us with the perfect piece of kit for lifting these pods and it is saving us a huge amount of time."
Based in Dorset, UK, Britlift works with a global client base, providing an end-to-end lifting equipment engineering design service including calculations, design, manufacture, certification, and rig design. The qualified mechanical and structural engineers at Britlift will work with the client during the design phase, ensuring the most efficient, effective, safe and suitable solution is engineered, be that a lifting beam or frame, a bespoke handling or lifting tool, complex rig design, or FEA. Its Traditional Modular spreader beam is also available in a variety of standard sizes. For further details, visit www.britlift.com.
For further information on Rainbird Crane Services, visit https://www.rainbirdcraneservices.co.uk/.