This is the easiest and most economical way of lifting a bathroom pod. Manufactured from stock material this can be supplied within 1-2 weeks. Can be designed to lift as many different pod sizes as required.
The whole system offers flexibility and the adjustable slings allow for an offset centre of gravity (CoG).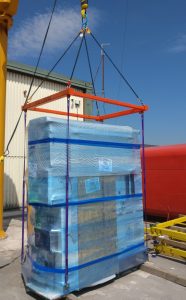 Supplied using our off-the-shelf modular spreader beams, the beams can be supplied next day and the rigging within 3-4 days. A suitable solution if time is tight and there are no headroom restrictions.
A rigging plan and drawings can be produced.
Not quite what you are looking for?
Britlift can design and manufacture any type of lifting system whether it be lifting a bathroom pod, a residential or commercial module, a container, a mobile home/lodge, etc.

Contact us with the details of your lift!
Enquiries
Please fill out the below contact form and include any additional comments you feel are important for us to know.
Please include any special standards or specifications within the comment box.
Our engineers are now available for a free consultation to help you find the right equipment for your lift.