Roof Truss Lifting Beam from Britlift
The Britlift Roof Lifting Beam (RFL) is a lightweight steel, modular lifting beam which has been specifically designed to lift (timber) trussed rafters (aka roof trusses).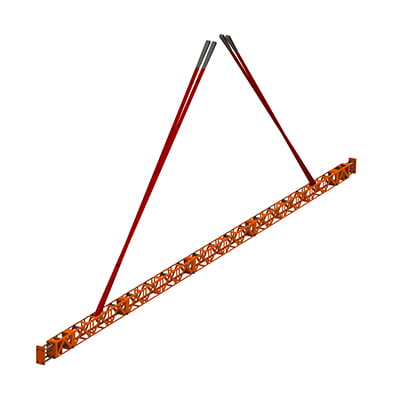 Roof Truss Lifting Beam – 10m
Proof load tested to 2x WLL, this patent pending product comes with a detailed set of User/Assembly Instructions, EC Declaration of Conformity, and is UKCA and CE marked.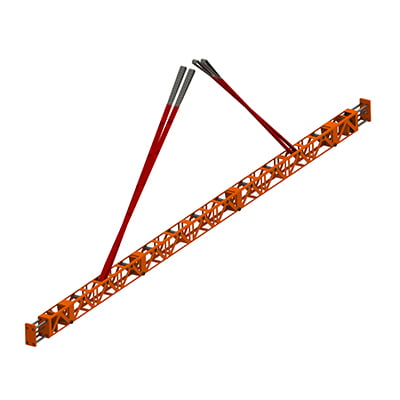 Roof Truss Lifting Beam – 7m
Given that the system is modular, the beam can be increased and decreased in span, to suit any size of roof truss.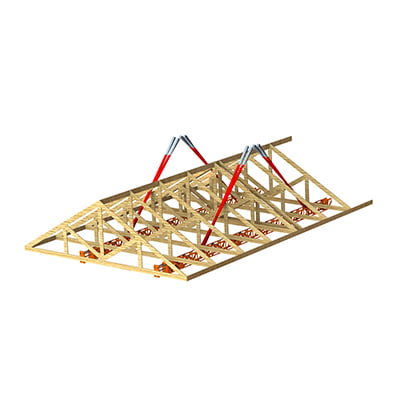 Short Beam with Full Sling and Roof
The patent pending connection system allows for ease of assembly, handling, use and storage.
Slotting within the structure of a timber roof trusses, the main purpose of the RFL is to reduce timber wastage by replacing the traditional roof truss lifting method (structural timber in the roof structure installed for the sole purpose of lifting the roof structure, which become immediately redundant once the lifting is completed), with a lightweight steel beam that is reusable.
Reducing the non-value added materials within the build system with a fully tried, tested and certified product was the key driver for it development.
By reducing the non-value added activities and materials within the overall build system, there is an increase in Pre-Manufactured Value which in-turn is a key driver for access to the likes of Homes England funded projects.
The PATENT PENDING modular lightweight design allows each component to be easily handled, and assembled by the site team, easy to store and transport, easy to maintain and inspect, and simple to adjust.
Trussed rafters (roof trusses) provide a structural framework to support the roof fabric, ceilings or floors of buildings in both residential and commercial structures.
Enquiries
Please fill out the below contact form and include any additional comments you feel are important for us to know.
Please include the weight being lifted, length required, type of top and bottom lifting points (distances if applicable) and any special standards or specifications.
Our engineers are now available for a free consultation to help you find the right equipment for your lift.