Lattice Spreader Beams from Britlift
Britlift Modular Lattice Spreader Beams are a cost-effective and versatile choice for your lifting needs. These spreader beams come in two different capacities to suit any need, and with the ability to handle loads up to 44m in length.

Get in touch with us today and we will be happy to take care of all your lifting needs!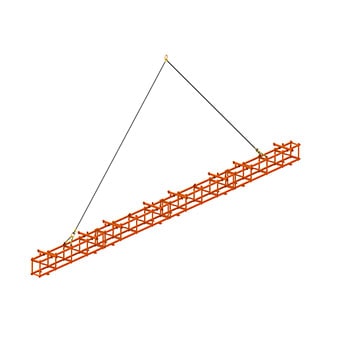 LATTICE SPREADER BEAM EXAMPLE
(WITHOUT LOAD)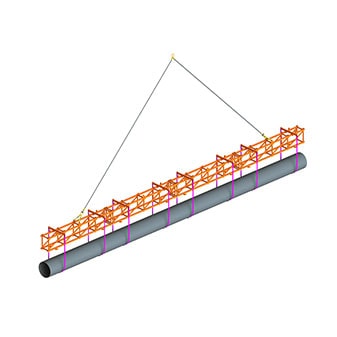 LATTICE SPREADER BEAM EXAMPLE
(LIFTING PIPE SECTIONS)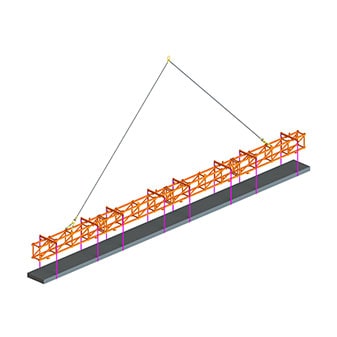 LATTICE SPREADER BEAM EXAMPLE
(LIFTING ROOFING SHEETS)
Britlift have recently brought to market a brand-new size of Modular Lattice Spreader Beam. The larger (LAT-6) 6 tonne WLL capacity becomes the largest capacity (standardised) Lattice Spreader Beam on the market.
The LAT-6 joins the existing (smaller) size of the LAT-3 (3 tonne WLL) in the Britlift lattice spreader beam standard product offering.
The Britlift modular Lattice Spreader Beam comes in two sizes (LAT-3 and LAT-6, 3 tonne and 6 tonne lifting capacity, respectively) and has been designed to lift loads of up to 44m in length (44 lifting connections) in the most cost effective, and efficient way. The engineers at Britlift designed the system with transportation, storage, handling, and self-weight at the forefront of their minds. Available to purchase 6-8 weeks from order. If it is a hire you require then please contact Britlift with required start date, duration of likely hire period and site address.
Possible lifting applications (not limited to)
Lifting of roofing sheets
Façade panels
Long pipe sections
Bundles of long tube/bar
Wind turbine blades/parts
Rail sections
Enquiries
Please fill out the below contact form and include any additional comments you feel are important for us to know.
Please include the weight being lifted, length required, type of top and bottom lifting points (distances if applicable) and any special standards or specifications.
Our engineers are now available for a free consultation to help you find the right equipment for your lift.